True Presence® now available
The first true presence detector.
Welcome to the new era in building sensor technology! Revolutionary True Presence® technology is based on ultra-sensitive high-frequency measurement and delivers absolutely reliable information on human presence or absence. The True Presence® sensor range impresses with understated design as well as high-quality detection performance.
Programmed to detect human breathing patterns
True Presence® detects micro-movements
True Presence® technology reports human presence as soon as breathing patterns are detected. And does so regardless of whether the person present is sitting, reading, resting or sleeping.
Saving energy in buildings
Helps to save energy costs
True Presence® sensors only require a minimal stay-ON time, saving the maximum amount of energy. Knowing true presence also makes it possible to avoid inadvertent triggering and save further costs.
7 senses for KNX
True Presence®
Mounted at a height of 4m, True Presence can cover an area of up to 64 sq.m.
Temperature
Reliable measurement of room temperature from 0 - 40 °C
Humidity
Relative humidity is measured to one-percent accuracy from 0-100%
Brightness
Light-level measurement from 2-1000 lux
VOC
Measurement of volatile carbon particles in the air from 0-1000 ppm
Air pressure
Hydrostatic pressure in the measurement range from 300-1200 hPa
CO2
Carbon-dioxide content in room air in a concentration from 300-5000 ppm
This is what KNX experts say
Given the way it works, it is streets ahead of any detector currently available on the market in terms of presence detection sensitivity. And in conjunction with reach restriction and its appealing look, this detector will, I think, become the new reference for presence detectors!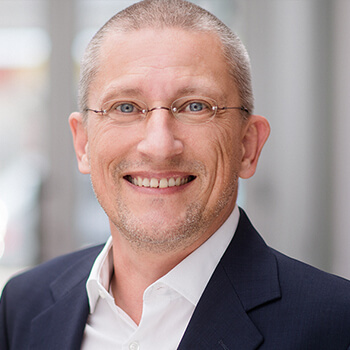 Frank von Breitenbach
Innovation Consultant and KNX expert
The new benchmark in presence detectors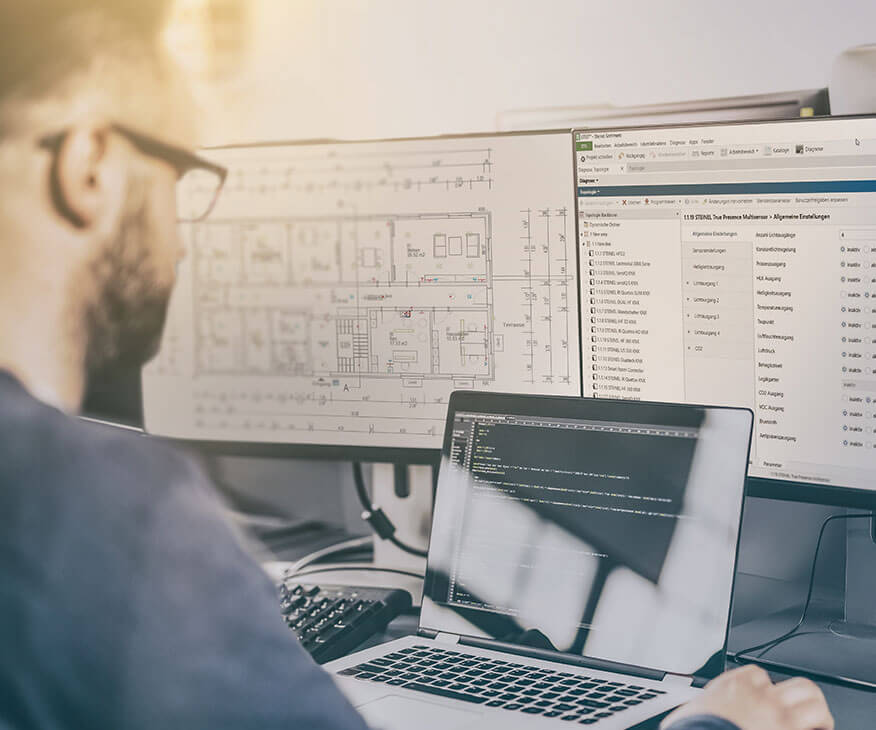 Flexibility for KNX integrators
True Presence® gives KNX integrators a wealth of different options.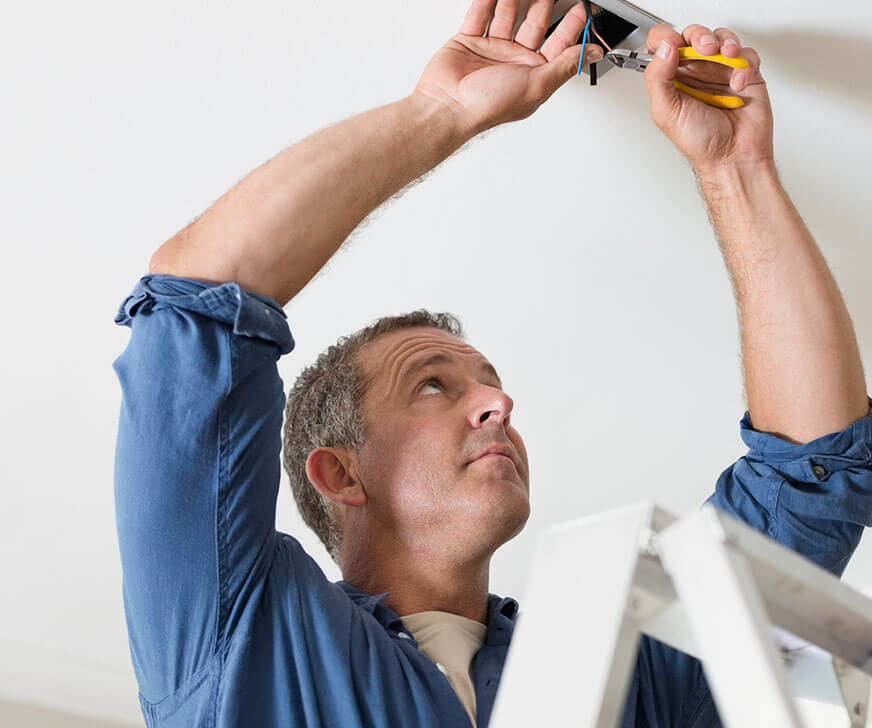 Simplicity for electrical fitters
True Presence® makes child's play of installing, interconnecting and putting sensors into operation.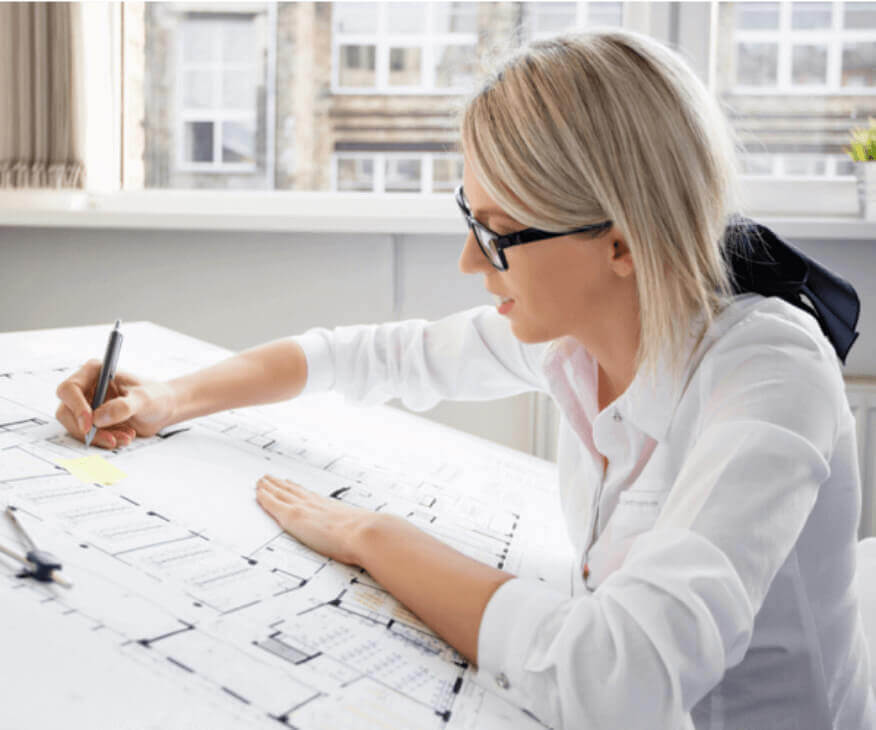 Ideal basis for planners
The Dali interface makes True Presence® easy to plan.
Building sensor technology on a new level
True presence with up to 7 senses for KNX
Use the innovative capabilities of True Presence® detection and of the further sensor variables for more intelligence in your projects/buildings. Using several of the sensor variables from the Multisensor opens up new possibilities in building automation.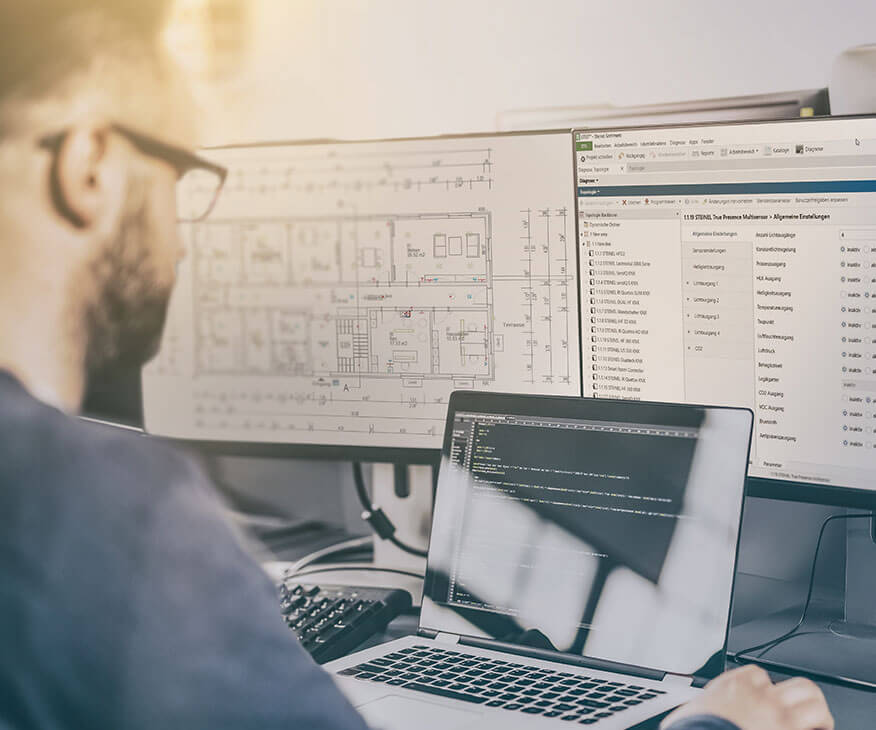 Interconnection is extremely easy – without any wiring chaos
True Presence® makes the work of electrical fitters much easier and far more satisfying. Straightforward and effortless configuration via Bluetooth in particular reduces work input. Interconnecting several Steinel Bluetooth products involves none of the bother of having to lay cables either. And the magnetic sensor heads also speed up the installation of sensors on the construction site.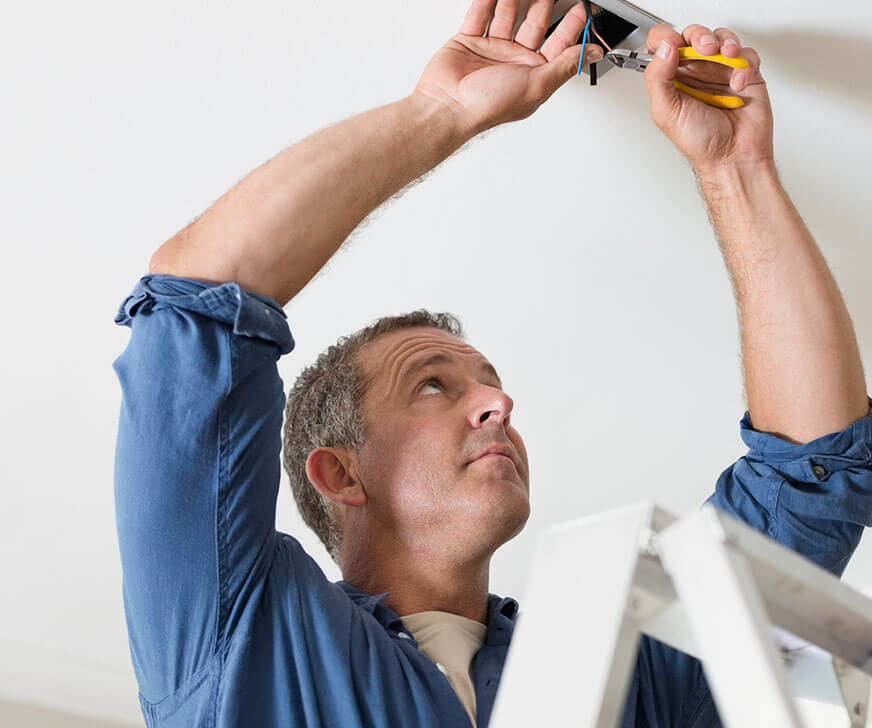 Maximum flexibility for new Dali functions
Experience the most advanced system on the market and benefit from maximum flexibility given by practical Bluetooth connectivity. Everything is incredibly easy to configure and can be adjusted whenever necessary without any problem whatsoever. Added to this are innovative Dali functions which give you, as a planner, fantastic new options.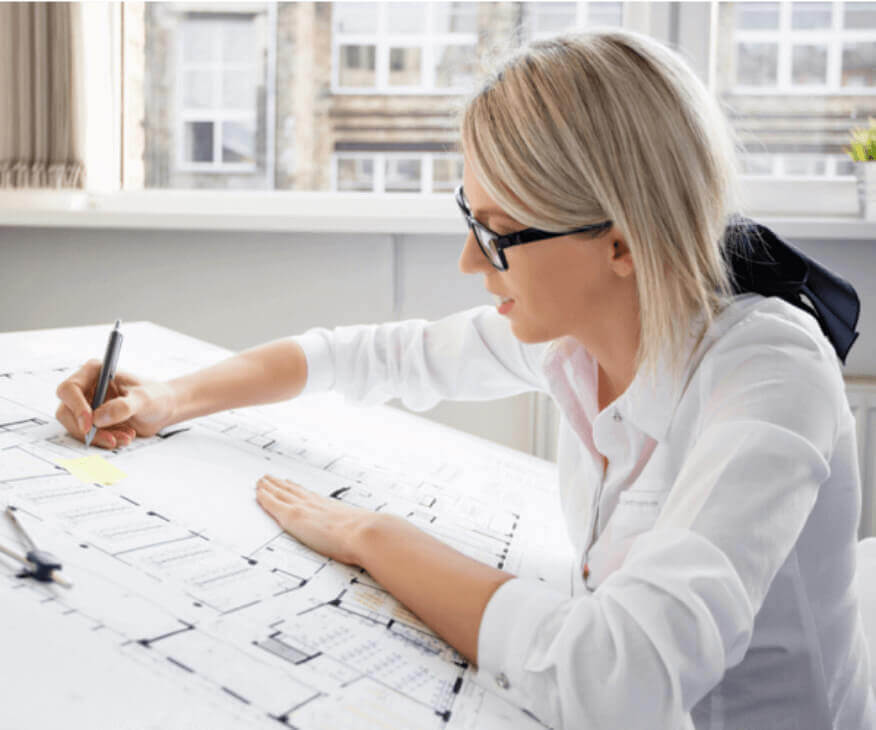 Downloads
Downloads for every application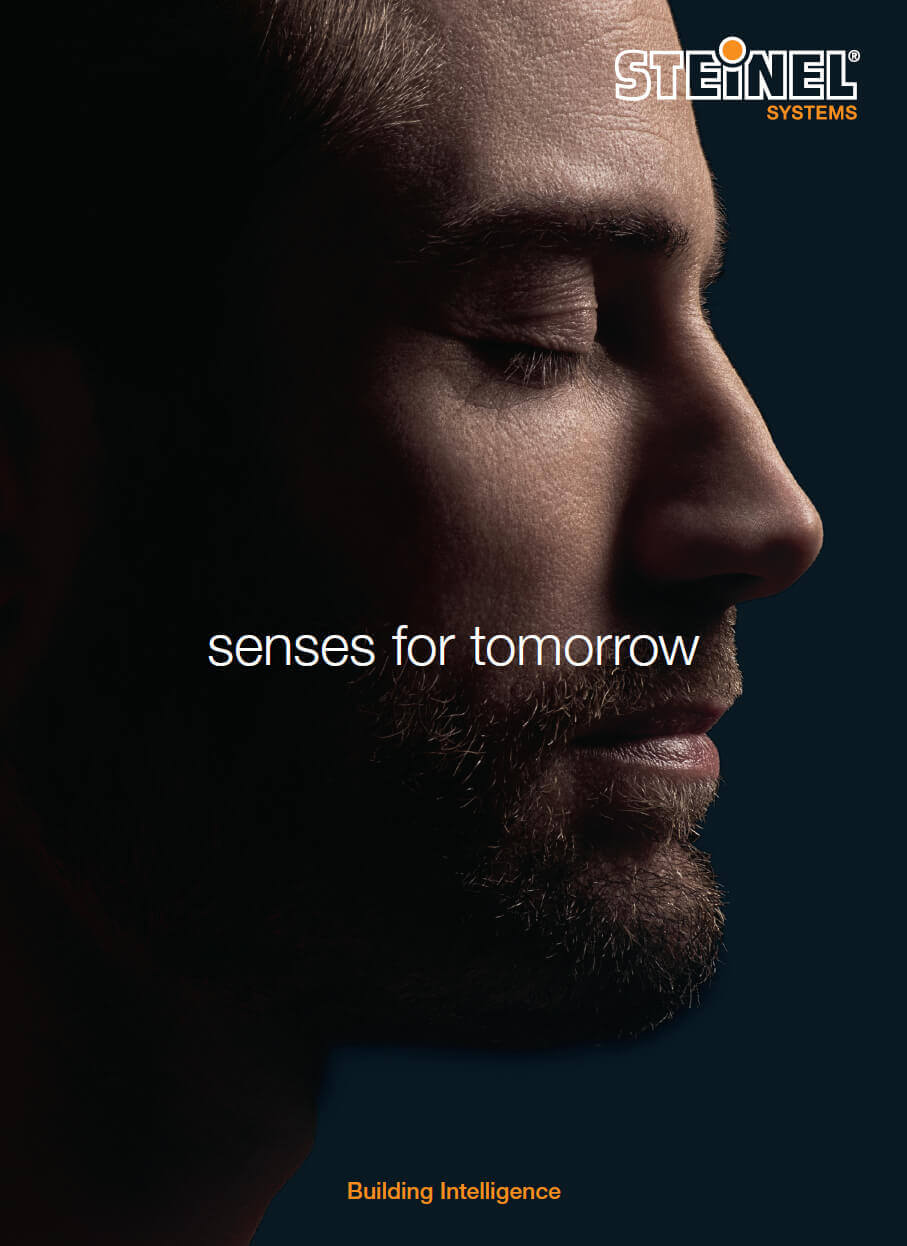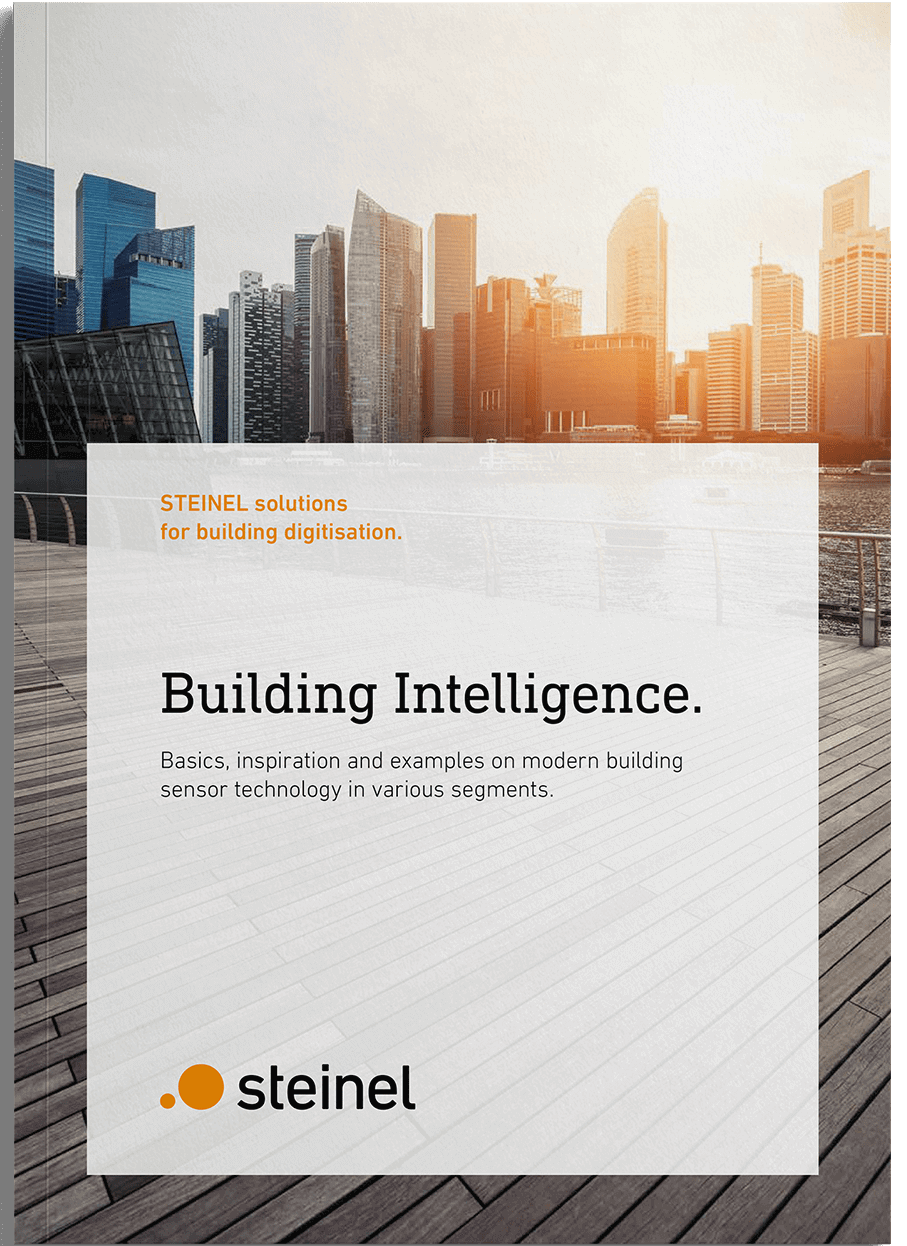 Building Intelligence PDF